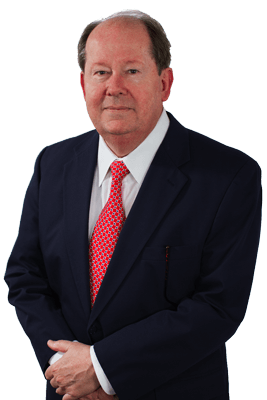 Late last year, George W. Lennon announced his plan to retire on December 31, 2020. George has been practicing law for 44 years and has spent the majority of those years as a founding partner at Lennon, Camak & Bertics, PLLC. While we will miss his drive, compassion and legal excellence, we are excited about his well-deserved retirement.
George's inspiration to practice law comes from his grandfather, who was an attorney for over 50 years in Wilmington and provided a positive influence, as well as his strong interest in history. George was active in Naval ROTC as an undergraduate at the University of North Carolina and then attended law school through the G.I Bill after active duty in the Navy.
George's early career experiences helped to inspire his passion for workers' compensation and social security disability law. While representing the NC Department of Labor, OSHA Division, he learned the mechanisms of injury and occupational disease. Later, he worked in the Tort Claims Section of the Attorney General's Office, where he defended State agencies in workers' compensation claims. "Through that work, I learned the complex rules and law required to practice workers' compensation law before the Industrial Commission," he explained. This led him to become one of the first attorneys in the State to be designated a certified specialist when the State bar established a panel in workers' compensation law.
After serving in the Attorney General's Office for 10 years, George joined a private firm and helped build the practice. Over the years, it evolved into Lennon, Camak & Bertics. According to George, the firm is unique for focusing long-term on achieving the best outcome for the client. He explained: "We are not in a rush to get a quick (low) settlement. We have cases that have been open for decades because the defense was not willing to pay fair value to settle…We spend extra time educating our clients so they understand how the system works and can make better informed decisions."
For George, practicing law was all about helping others, whether by successfully representing clients or mentoring other attorneys and staff members. He admitted, "I will miss the people—clients, staff, other attorneys and mediators that make work interesting and our mission worthwhile."
Making over 100 appearances in the NC Supreme Court and Court of Appeals during his career, George has had many memorable cases. But one of the most interesting ones was Adams v. AVX Corporation, a landmark decision of the NC Supreme Court affecting workers' compensation cases. "I take great satisfaction in having worked on landmark cases which have established legal principles that will help for many years to come," he said.
After a successful law career, George is hopeful about retirement. "Friends tell me there is 'life after work.' A good Eagle Scout tries to leave the campsite better than he found it," he said. "I plan to remain active in a number of civic, historic preservation and genealogical organizations. I hope to have more time to spend with my family and friends and to travel while continuing lifelong learning."
Please join us in thanking George for his service, congratulating him on his retirement, and wishing him well in his future endeavors. We look forward to continuing to serve all of the clients of our firm, and invite you to contact our team if you have any questions.